About Us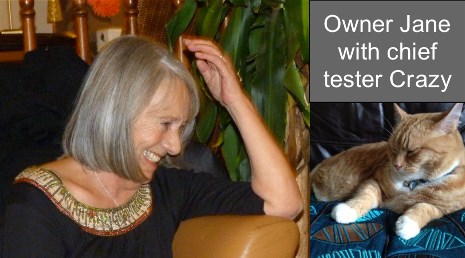 Cool Cat Collars is run by a small and dedicated team of cat lovers with years of experience trading via the internet. You can be assured that all products we stock have passed our own criteria and would be (and often are!) used by our family cat.
We aim to provide the biggest choice of quality cat collars and tags and to provide excellent customer service
Owner, Jane, is an animal lover. Coming from a farming background and having studied psychology specialising in animal behaviour at university, animals have been a big part of her life. Her very first pets as a young child were a cocker spaniel called Lolly who won the fattest dog competition in the village fete, and three cats Liquorice the mother and her 2 offspring called All and Sorts. Liquorice and All were all black and the boy, Sorts, was black and white - but I expect you had worked that one out already!
She now has a cocker spaniel called Butty who gave birth to a litter of 9 puppies (yes - nine!) a couple of years ago. Chief tester Crazy lives with daughter Jo and her family.
About Our Brand
We realise that cats and their owners are all individuals with their own unique personalities so we aimed to develop our own brand to consist of eclectic designs with one to suit each and every fab feline. Hopefully you think we have gone some way to achieving this
Our own brand collars can be seen by clicking here