Cool Cat Collars Fashion Show
Friday, 12 April 2013 | kelly
Velvet Trend Seen On the Cat Walk This Week
There was a gasp of excitement at the opening of the second Cool Cat Collars fashion parade of the year.
Bella took to the stage first, looking absolutely beautiful and so feminine in pale pink velvet with a trend setting bow and bell tucked under her pretty chin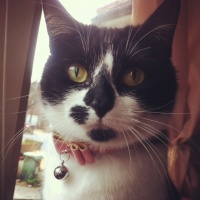 Next on the catwalk came her brother, Ginger Dave, who although new to modelling, showed he was every bit a natural and professional to the last, just like his sister.
He thrilled the crowd lifting his head high to show off the very latest from this collection, a green velvet collar in a delicious pistachio shade contrasting most handsomely with his ginger and white fur.
What a day! Everyone had a wonderful time and I'm sure this audience can hardly wait for the next fashion show.
One things for sure, we were all left in no doubt about velvet cat collars being absolutely on trend for this seasons cool cats.