Cat Blankets Just Made for Cats
Tuesday, 12 February 2013 | kelly
We've been out hunting on safari and come back with these gorgeous cat blankets which we think are just the thing for felines who like a touch of comfort combined with a fashion and style.
These cat blankets come in 3 big wild cat designs - the Tiger, the Leopard and the Snow Leopard, fondly referred to as mountains ghosts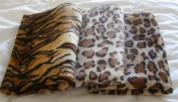 At 50cm by 70cm (or for those of us not brought up with decimalisation approx. 20 inch by 30 inch) they are a nice size to place in a cat bed or put over a cushion on a human sofa or chair to provide stylish protection.
Machine washable, these cat blankets don't fray or bobble and they have been made in the UK