Cat Model Somersaults in Skulls
Monday, 13 January 2014 | kelly
Our latest fashion show takes us to Hertfordshire where a future super star, and young model Thomouse, just 5 months old, doesn't just simply parade down the catwalk. No - he does somersaults
playing a cat and mouse game trying to catch the skull bell on his collar!
What an event. Phew. We are all, including Thomouse, pretty worn out now with all those gymnastics and ready for a bit of a sit down and a rest as you can see here.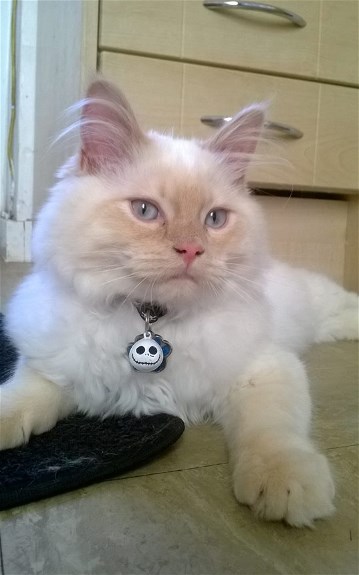 #
We are well impressed with this young kitty and his debut modelling performance - how handsome is he?!
Thomouse's human who is very supportive of the ambitions of this young rising star says "I love the idea of Tommy being famous". We are told their other kitty is less enamoured with the idea but as collars render her unable to lift her head or hold her body weight Suki-Lou-Lou could never purrsue this career.
Well, good luck to you, Thomouse, with those looks we think you will go far and you never know, Tommy, your sister might think again one day and follow in your footsteps down that exciting path to fame.
Watch out though, Tommy - your humans say the skull bell is loud enough for them to hear you when you up to no good all around the house, haha!