Christmas Cat Collars - a Late Entry!
Saturday, 30 November 2013 | kelly
Yes... I know this is very late in the day to be making this cat collar but we just found some gorgeous enamel santa hat charms and couldn't resist getting some.
So they arrived this morning and we have put them onto our cranberry red velvet collars and think that any cat sporting one of these on Christmas day will definitely be the cats whiskers!
Festive and with the classic classy appeal of plush velvet - one for the stocking I think for any feline 'good boy' or 'good girl'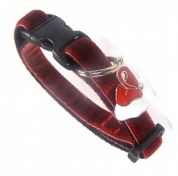 Have you seen our Christmas video played to jingle bells - quite appropriate for cats, don't you think?