Free Cool Fish Charm with Every Cat Collar
2 Comments
Tuesday, 2 April 2013 |
kelly
Free Cool Fish Charms
Update - Sorry all gone now!
Get your free gift today - we have 100 charms to give away!
We'll be sending one of these cool fish as a little present and as a way of saying thank you with every cat collar purchased. First come first served.
They are rather cute, blue enamel and silver plated fish shaped charms with a split ring ready for you to attach to your cats collar.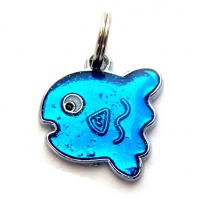 We like their rather cheeky beady eyes and frilly fish tails and the way they catch the light and shine. We hope you and your cat will like them, too