High Fives From a Bengal Cat Who Loves Countryfile
Friday, 25 July 2014 | kelly
Caerphilly is not only famous for its most delicious crumbly white cheese and it's castle but also for the quality of the cat models residing in this Welsh town.
Perseus, or Percy to his friends, is one of the super models from this area, the venue for the summer cat fashion show this year. This is what his human agent said about this star:
His posh name is Springmeadow Perseus and he was born on the 22nd March
2013. He is quite a character and will play fetch with his favourite toys a
shuttlecock and straws! He also shows off giving 'high fives' and kisses.
Percy is very energetic and goes out in his harness several times a day
venturing up the garden, investigating the bushes for bumble bees, I have
lost count of the times he has been stung. Or just before bedtime last walk
he loves to chase the moths .......
He loves to sit alongside me on the sofa and watch Countryfile or any other
nature programme. If there is a drawer, oven door, dishwasher, cupboard open
or a box to play with its just for him especially when the computer printer
is going he has to get his paw inside ........
And now the moment you've all been waiting for! ......
Put your hands together please, for the very handsome Bengal model, Persius.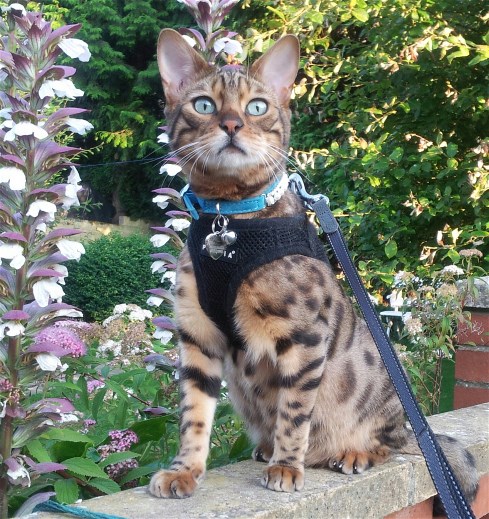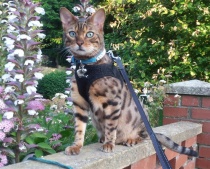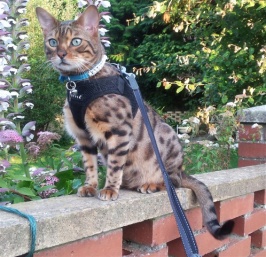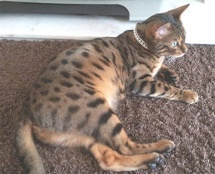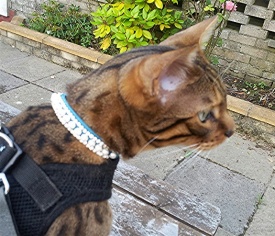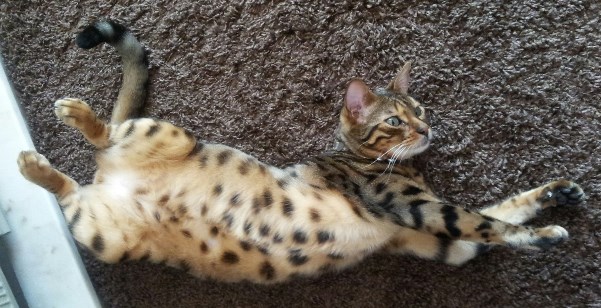 Percy is wearing one of our posh pearl cat collars in blue which looks simply stunning against his gorgeous fur coat and matches his eyes beautifully.