London Christmas Cat Show
Tuesday, 17 December 2013 | kelly
The Christmas cat fashion show was held this year in London, one of the fashion capitals of the world.
Catwalk model Winston wore some gorgeous festive accessories - a red velvet cat collar teamed with a smart black enamel ID tag which I think you'll agree look simply stunning against his glossy black and white fur coat!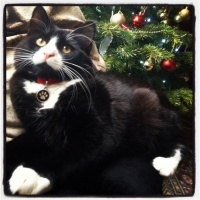 Winston, with looks like that and a such a relaxed demeanor under the spotlight, we think you are going to go far in the cat modelling world!
We all wish you a very Merry Christmas and a well deserved rest after all your hard work preparing for this very important show of the year - thank you Winston