New Zealand hosts first 2013 Cat Fashion Show
1 Comment
Saturday, 2 February 2013 |
kelly
The first cat fashion show in 2013 was held in New Zealand.
It got off to a very glamorous start with stunning cat model, Norma, flaunting with poise one of the latest bling creations to come out of the Cool Cat Collars fashion house.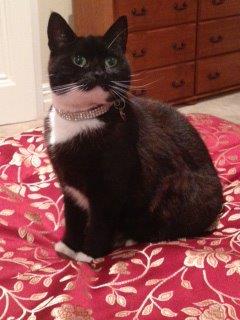 We spoke to Norma just minutes after coming off the catwalk. She had kicked off her pretty kitten heels, revealing her little white ankle socks and was taking a well deserved rest on her couch.
Her rise to fame hasn't changed her one bit - she is still modest and a bit shy. I might have seen her blush just a little bit as she told us that the neighbourhood cats have voted her as the most glamorous in the area and we can certainly believe that this cutie cat model is!