Cat Cafe's in the UK - The Ultimate guide
2 Comments
Saturday, 14 January 2017 |
kelly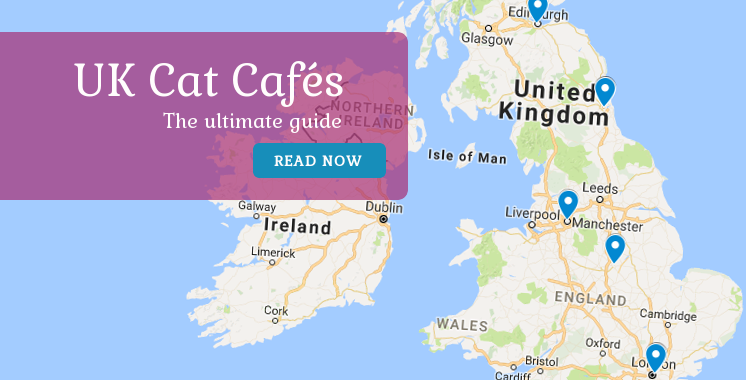 If you're a cat lover either living in, or visiting the UK on holiday you should take a little time out to enjoy one of the more "novel" feline experiences springing up all over the United Kingdom, Cat Cafés! The phenomenon of the Cat Café originated in the far east during the 1990's but since the opening of the first Cat Café in London back in 2014 cat lovers in the UK have seen many new venue's opening their doors.
Planning to visit one of the many UK Cat Cafés? You've come to the right place! We've compiled "The Ultimate Guide" to Cat Cafés in the UK, all the essential information you will need to plan your visit to one, or all of the great Cat Cafés we have to offer!
Have you been to one of the Café's? Let us know in the comments below and if you found this post useful please share it with your cat loving friends!
Know which city or Cat Café you're heading to? Use the links below to jump to the information.
Cat Cafés in England
Cat Café (Manchester)

Manchester's first ever Cat Cafe opened in Manchester's thriving Northern Quarter in the summer of 2016 with 10 furry residents and this one operates a little differently than others. Patrons pay to snuggle up on a cosy sofa and relax with a coffee in the company of the felines based on the length of time they stay, there is no entrance fee (Yay!). When you arrive at the café you are given a time card and then you are free to spend as much time with the cats as you like with all hot and cold drinks unlimited and free of charge for the duration of your stay (Yay!). When you leave you pay for the amount of time you spent in the café, which could be ten minutes or two hours, customer are charge to the nearest five minutes.
A group of ten cats live in the café, full time, you can play with them, stroke them, and even have a nap with one if they choose to curl up on your lap. For a few hours in the week you can have a pet. Well you can have ten! All different, and all full of love. You can spend time with cats without the stress of a permanent lifelong commitment.
See for yourself:
How to get there:
Best Known for:
Film Nights! Including blankets, popcorn and of course kitty cuddles! Film nights are run every Friday and Saturday in the Cafe.
Get Social with Cat Café:
​See reviews of Cat Café:
Lady Dinahs Cat Cafe (London)

Named after the cat in Alice in Wonderland "Lady D's" as it is know to regulars is London's longest-running Cat Cafe. Established in 2014 with the help of a small army of cat loving crowd funders, Lady Dinah's offers a quiet refuge from the busy city, where you can relax and enjoy a peaceful cuppa with our resident cats. Whether you join us for a High Tea, to colour in, or just have a coffee, we hope you leave with a spring in your step and a smile on your face.
See for yourself:
How to get there:
Best Known for: Being the UK's first Cat Cafe, quirky decor and beautiful kitties!
Get social with Lady Dinah's Cat Cafe:
See reviews of Lady Dinah's Cat Cafe:
Kitty Café (Nottingham)

Not only is Nottingham based Kitty Café a well-established Cat Café it is also a re-homing and care facility for cats and kittens from a range of backgrounds. From rescue cats, to strays, to cats which have had medical issues - Kitty Café take them in and look after them until they find their forever home.
As Kitty Café has been so successful at re-homing their felines even the most frequent guests will find new kitties at the café on almost every visit. Not only will they find different cats, with 100 different varieties of tea to sample you'll never be bored of the refreshments either!
See for yourself:
How to get there:
Best Known for:
Being the only Cat Cafe in the Midlands and the HUGE selection of Teas
Get social with Kitty Cafe:
See reviews of Kitty Cafe:
Mog on the Tyne (Newcastle-upon-Tyne)

Newcastle's first ever Cat Café is situated right in the city centre to provide you with an oasis of calm, away from work, studies and shopping! What could be better than to retreat to one of the oldest streets in Newcastle city centre and spend an hour with our delightful family of rescued cats, delicious cakes, pawninis and carefully chosen hot and cold drinks; all from local suppliers?
See for yourself:
How to get there:
Best Known for:
Hot Chocolate! Mog on the Tyne was recently featured in Buzzfeed as being one of the top 16 places to drink hot chocolate before you die!
Get Social with Mog on the Tyne:
​See reviews of Mog on the Tyne:
CatPawCino (Newcastle-upon-Tyne)

CatPawCino is located on the beautiful Newcastle Quayside overlooking the River Tyne. They have a sit-in café, home to 7 resident cats and also rescue cats from Friendz Feline. You'll be welcomed in by our cat keeper, & you can eat, drink & watch the world go by whilst socialising with some delightful kitties in the beautiful surronding of the Quayside Cat Café.
See for yourself:
How to get there:
Best Known for:
The stunning location! CatPawCino is located in the beautiful quayside and is the only cat café in the UK where you can stroke a kitty whilst watching the boats sail by!
Get Social with CatPawCino:
​See reviews of CatPawCino:
London Cat Village (London)

Described as "Not your traditional 'cat cafe'" the London Cat Village is an oasis to escape everyday life in the company their very own furry felines. Based in the heart of Shoreditch on Rivington Street you will find a 'kitty in a window' and a home of 17 cats waiting for your company. London Cat Village is a place for you to de-stress, have a 'smeowthie & kitty onigiri' and relax whilst our lovely kitties keep you entertained.
See for yourself:
How to get there:
Best Known for:
Slippers and cozy rugs! The London Cat Village provides slippers for guests who really want to make themselves at home!
Get Social with The London Cat Village:
​See reviews of The London Cat Village:
Lady T's Curious Cats and Coffee Parlour

On the face of things Lady T's cafe is a luxurious Victorian coffee shop situated in the idyllic setting of a 3 story listed building. However giving time to take a closer look you will find that not everything is as normal as it first seems.
Upon entering the newly built reception area you will notice that the two public rooms are not only Victorian themed, but to replicate their curious fascination of the bizarre, each room contain weird artifacts and truly bizarre oddities from around the world.
And lets not forget the cats. All of the cats at Lady T's are rescue cats and are here to give them a home where they can be loved and cared for, due to the ever increase in asking to house cats will now be adopting new residents out. All original residents will still live at Lady T's for the remainder of their life
See for yourself:
How to get there:
Best Known for:
The distinctive decor in a listed building
Get Social with Lady T's:
​See reviews of Lady T's:
Tabby Tea's Cat Cafe

See for yourself:
No video yet, check back soon!
How to get there:
Best known for:
Get social with Tabby Teas:
See reviews of Tabby Teas:
None yet, check back soon!