World Cup of Movie Cats
Monday, 27 February 2017 | kelly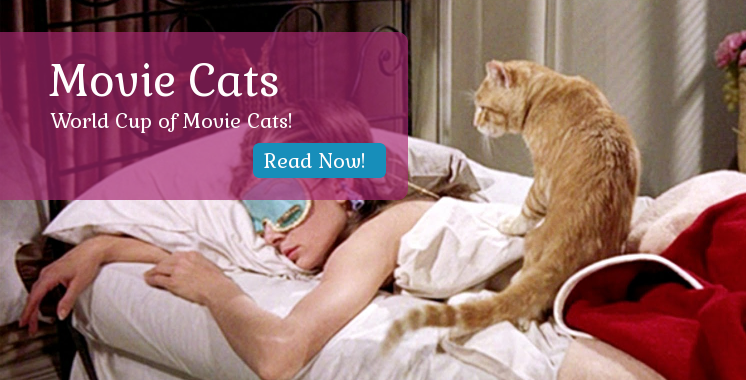 Today we launch the World Cup of Movie Cats (#WCoMC) on our Twitter page, 32 fabulous felines will fight it out over the next few days until one is crowned champion of the world! Over 50 star quality kitties were suggested for this prestigious honour via our Twitter and Facebook pages.
We'll be keeping you up to date with the progress of your favourite right here on the Cool Cat Blog! Don't forget to vote via our Twitter account
Round 1
Round 1 will be a classic knock out competition, 8 groups, 4 felines per group and the top 2 from each group progress to the next round once voting is closed. Many kitties didn't even make it this far, the final 32 are as follows:
Group 1
Garfield 28%
Aslan (Narnia) 26%
Mr. Jinx (Meet the p'nts) 15%
Jones (Alien) 31%
Group 2
Thomasina 21%
Alex the Lion (Madagascar) 14%
Chloe (Secret Life of Pets) 14%
Street Cat Bob 51%
Group 3
Binx (Hocus pocus) 3%
Bagheera (Jungle Book) 17%
Puss In Boots (Shrek) 66%
Sassy (Homeward Bound)
Group 4
Blofeld's Cat (James Bond) 14%
Keanu 17%
Simba (Lion King) 48%
Grumpy Cat 21%
Group 5
The Cheshire Cat (Alice) 33%
That Darn Cat 11%
Duchess (Aristocats) 19%
Top Cat 37%
Group 6
Cat in The Hat 50%
Azrael (Smurfs) 4%
Mr. Tinkles (Cats and Dogs) 21%
Thomas O'Malley (Aristocats) 25%
Group 7
Snowbell (Stuart Little) 44%
Figaro (Pinocchio) 15%
Ulysses (Inside Llewyn Davis) 11%
"Cat" (Breakfast at Tiffany's) 30%
Group 8
Mr Bigglesworth (Austin Powers) 39%
The Cowardly Lion (OZ) 46%
Oliver (& Company) 4%
Pyewacket (Bell Book and Candle) 11%
Round 2
Some shock results in the first round but we're now down to 16 fabulous felines! We've now put the winners and runners up from the first round into 4 further groups. Things just got serious!
Group 1
Jones (Alien) 29%
Top Cat 33%
Grumpy Cat
Mr Bigglesworth (Austin Powers)
Group 2
Street Cat Bob 43%
Cat in The Hat 22%
Bagheera (Jungle Book)
"Cat" (Breakfast at Tiffany's)
Group 3
Puss In Boots (Shrek) 43%
Snowbell (Stuart Little) 25%
Thomasina
Thomas O'Malley (Aristocats)
Group 4
Simba (Lion King) 28%
The Cowardly Lion (OZ)
Garfield 32%
The Cheshire Cat (Alice)
Quarter Finals
The groups are now done and we're down to Head to Head matches, winner takes it all from now on
Group 1
Group 2
Street Cat Bob 65%
Snowbell 35
Group 3
Puss in Boots 71%
Cat in the Hat 29%
Group 4